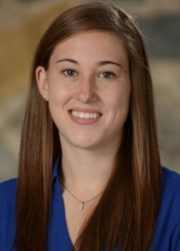 Shelby Lyman just completed her second season at UWRF and her first as associate head coach.
In her second season, Lyman continued to make a huge impact on the Falcon guards and overall implementation of a fast brand of basketball.
For the second straight season, the guard took a huge step forward from the season prior. With her help, Jenna Zeman averaged a career high 11.9 ppg while holding a positive assist-to-turnover ratio for the first time in her career. She also led the league in assists per game, the first Falcon to do so in 20 years.
Meanwhile, Haley DeSouza continued to develop into arguably the best shooter in the WIAC, shooting 43.6% from three, the second best mark in the league.
Lyman was also instrumental in the development of freshman Colie Justice, who emerged as one of the best freshmen in the league. Scoring 9.9 ppg on the season, Justice went 8-for-16 from three against UW-Stevens Point, the 2nd most made three-pointers in a game in WIAC history.
After being hired by women's basketball coach Blake DuDonis prior to the 2019-20 season, Lyman oversaw all scouting and guard development, in addition to recruiting, game planning, and all other things associated with the program. Under her tutelage, the Falcon guard unit saw several impressive performances and improvements.
Sophomore Haley DeSouza was transformed from a seldom used bench player into the starting point guard and key catalyst for the team, finishing 9th in the WIAC in three-point percentage and with career-highs in every category. She also was key in sophomore Sydney Hein becoming one of the most feared shooters in the WIAC. Those two, plus junior Brianna Koop, combined for 82 made three-pointers, a huge part of the team's 155 made threes, the 5th most in program history.
Lyman was also a huge part of developing freshman guard Cassie Heinrichs, who averaged 7ppg, 2.7 rebounds while recording 29 assists and 17 steals, making her one of the top freshmen in the WIAC.
Lyman came to the Falcons after serving in the same capacity at Cornell University for the last two years. She helped with on and off campus recruiting, player development, alumni development, and day-to-day office tasks.
Before serving with the Big Red women she had a three-year stint as an assistant coach at Division III powerhouse St. John Fisher College, helping the Cardinals to an Empire 8 championship in 2015 and a pair of NCAA DIII Tournament appearances.
In addition to her sideline experience with the Cardinals, Lyman also served as an assistant coach with the Empire Dragons AAU program for three years and worked as a personal basketball coach for individual and group training sessions.
Lyman, a native of Snohomish, Wash., who graduated from Cornell University in 2014, was one of the most prolific 3-point shooters in Cornell history, Lyman became the only freshman to play a full 40 minutes in a season opener. From there, she went on to set the Cornell record for games started (109) and ranked second all-time in career games played (111). She also finished her Big Red career ranked third all-time in 3-point field goals made (144).
Lyman still ranks among the top 20 in Cornell history in assists (14th – 219), steals (14th – 122), and minutes played (13th – 3096). She finished her career with 718 career points.
Lyman resides in River Falls, WI.